I think I feel pretty comfortable in speaking for the group, when I say that Costco is like a place of solitude for me.  It has well priced, QUALITY, (I stress quality because some other big name *cough Sam's Club cough* suck ass), items that can be awesome to have in bulk supply around your home.  I think everyone is going to put their favorite items found at our local haven. Oh, and their customer service is to die for.
1.) SAMPLES- I mean lets be serious, some people take this as an invitation to bring their grandma and 3 children as an all out lets-suck-anything-free-we-can-out-of-anyone-to-avoid-buying-our-own-meal and free day care, but I still enjoy them.  I also am not a free loader…. my fat ass also will buy a delicious Turkey and provolone sandwich at their cute little deli/cafe place with those little striped indoor umbrellas before making the 45 minute drive home. Don't forget, I will most likely also be taking a twist fat free frozen yogurt home with me also.
2.) HEALTHY STUFF-  Now if Costco was full of all organic items, I may just pitch a tent in the sheet and towels aisle and call it a day, but they do have a decent amount of really healthy bulk ingredients, and some organic stuff also!
*ORGANIC CHICKEN BREASTS– comes in a 3 pack of breasts that you can throw right in the freezer.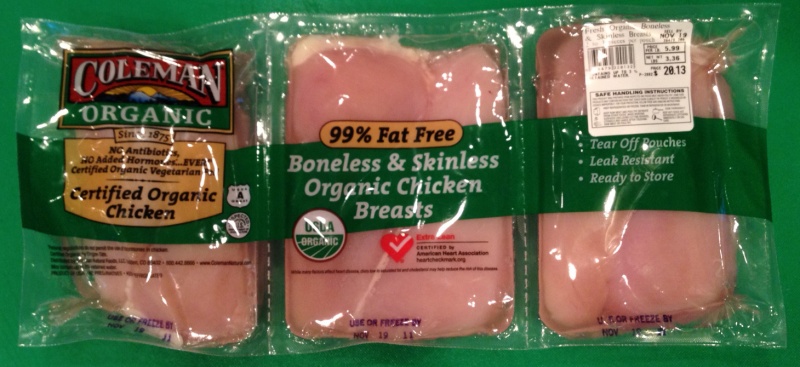 * GROUND TURKEY– the boy toy I cohabitate with has ridiculously high cholesterol, so I rarely cook red meat anymore, so instead I use ground turkey for pretty much everything.  It comes in a four pack of around 1.5-2lbs per pack.  Really nice to have handy in the freezer! Got some thawing in my fridge right meow.
*SPINACH-Emily here. So much cheaper than the grocery store. Plus, if we have it we have to use it.
3.) DARK CHOCOLATE COVERED ACAI BLUEBERRIES-  I've put down around 3 of these 2 lb bag of blueberries, thinking…."well if I want something sweet, at least they are healthier".  Yeah, real healthy when you eat them .5 lbs at a time, dumbass.  I don't even like dark chocolate! But these are amaze balls….. take my word for it, just buy some.
4.) QUINOA, CHIA, AND ORGANIC GOLDEN FLAX SEED-  I can be a little "granolaey" when it comes to my food, (ignore my last post about the spare tire inducing chocolate covered fruit that's sweetened with more fruit), and I like to have these around in the pantry.  I'm new with quinoa, but its a complete protein, which makes me happy to eat it.  Chia seed and golden flax can be used in all sorts of things, and it doesn't alter the taste too much.  So if I can add healthy food in other things, I try. (this really goes in number 2, but I'm too lazy to cut and paste, and retype, so there ya go).
5.) FORMULA-  I wish I hadn't started my little tyke on formula, but when my breast pump and I just couldn't work out our relationship, I had to.  Of course, I had to start using the most expensive one out there, but luckily, there's a local Costco! A jug of Similac (regular) powder formula costs $31.99 there, and it makes, I dunno, a shit load of bottles.  We make 32 ounces a day and a jug lasts us over a week.  Now you want to buy a jug half that size at Target for $24.99? Be my guests.  Or be smart, and just use the Costco formula to begin with, which is like, $17.00 ish? for a huge canister.
Emily here. I buy the Costco brand. It is cheaper, the container is bigger, and it hasn't made a bit of difference in the world for my little guy.
6.) DIAPERS- You need them anyways, so why not buy 400 at a time.  Now I did try the cheaper diapers, and in my opinion, they blow ass.  Huggies and the Kirkland brand were the same cost this last weekend anyways, (size 4), so I've always just used Pampers or Huggies. They are worth the extra money.
7.) FETA CHEESE- It comes in a giant container and usually doesn't expire for a few months! I put it in a lot of stuff, and who doesn't like cheese around?
8.) FRESH SALSA- I don't go for preservative-filled pantry salsa, but their fresh chilled salsa is delicious! We buy two at a time.
9.) TAKE AND BAKE- I don't know about you guys, but who wants to cook when you have been grocery shopping all day and have a full house of food? Not this guy! We will partake in some of their take and bake meals on occasion, and haven't had a bad one yet.
*Cayla said their pesto butter salmon is to die for, I have yet to try, but we did have their salmon pinwheels.  They were OK, not sure I would buy again.
* Their take and bake pizza is SUPER cheap and it's really good.
* Mac and Cheese is kind of hard to mess up, (although I've done it with a Pinterest crockp0t recipe, but Emily has a good recipe), but Costco nails it.  It's super creamy and cheesey and artery clogging and delicious.
10.) WINE-  Seriously, it's hard for me to find a red that I don't like, and Costco has a wonderful selection.  The Kirkland brand of Pinot Noir is actually pretty tasty. *Side note, I don't drink dry white wine, but Cayla and Emily both really enjoy the Kirkland Chardonnay also.
I could go on for days, but I'll let the other girls in on the fun.
xoxo number 5……..
*and a few tidbits by…who am I? Number 3??
*number 1 in my heart Emmy….. just tied with 3 others :)…… errr… make that 5 others if you add the men